VICE RECTOR PROF. DR. GÜNGÖR YILMAZ EXPLAINS THE MIRACULOUS PLANT HEMP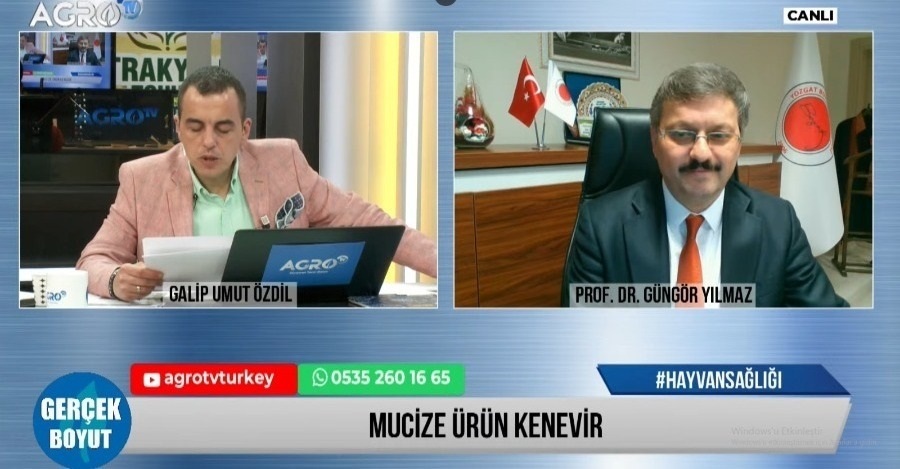 Our Vice Rector and Hemp Research Coordinator Prof. Dr. Güngör Yılmaz was the live broadcast guest of the program named " Gerçek Boyut", which was moderated by Galip Umut Özdil on AGRO TV.

In the program, Prof. Dr. Güngör Yılmaz gave detailed information on "Miraculous Product Hemp, Why Hemp Farming Is Important, Domestic and National Hemp Varieties".

Our Vice Rector Prof. Dr. Güngör Yılmaz stated that Yozgat Bozok University was granted a license by YÖK for the introduction of industrial hemp, which has many uses from textile to the automobile industry, from construction materials to cosmetic products, from the energy sector to the food industry through biomass, and he stated that with the establishment of the Institute of Hemp Research, scientific studies have been carried out by more than 100 academic members under 7 study groups.

 Noting that industrial hemp has thousands of uses in many different categories, Prof. Dr. Yılmaz pointed out that products such as paper, fabric, building materials, industrial products such as plastic, edible oil, flour, cream, and food cosmetics such as CBD oil, which is very popular today, are among the products made by using the root, stem, leaves and seeds of hemp.

Indicating that the textile need in the world is met from naturally sourced fibers such as hemp, linen wool and silk, Yılmaz said: "The narcotic nature of hemp caused this plant to be left out and seen as a problematic plant. Hence, hemp has become neglected." Prof. Dr. Yılmaz continued his speech as follows: "There have been bans on hemp in various countries around the world. On the one hand, we witnessed widespread use, on the other hand, there are prohibitions. In our country, hemp has never been completely banned in any period of history, neither in the Seljuk, nor in the Ottoman Empire and the Republic of Turkey. It is a plant that can be utilized from root to stem, from fiber to leaf, from flower to seed so that no part is left out. It is a plant that supports different industrial sectors and has the qualities that can be a raw material. It is of great importance for our country to increase the production and spread of hemp, which is used as a raw material in many sectors. Developed by the Hemp Research Institute of Samsun Ondokuz Mayıs University (OMU), "Narli" and "Vizier", which are domestic and national hemp varieties, became the first registered industrial hemp seeds in Turkey. A registration certificate was issued for Narlı and Vezir hemp seeds. The agriculture of any product whose industry is not developed will not develop either."

Our Vice Rector Prof. Dr. Yılmaz: "We are still facing a serious legislative obstacle at the moment. This is so both at the law level and at the legislative level.

There are very serious developments in the medical sector in the world in this sense. At this point, as the necessary legislation for hemp production could not be established, progress could not be made. In order to pave the way for medical production, we must first overcome the legal regulatory obstacle."

28.4.2021 13:31 || 81 once read.
---