OUR VICE RECTOR PROF. DR. GÜNGÖR YILMAZ SPEAKS IN THE ONLINE SEMINAR ON "INDUSTRIAL HEMP AND OPPORTUNITIES OF TURKEY"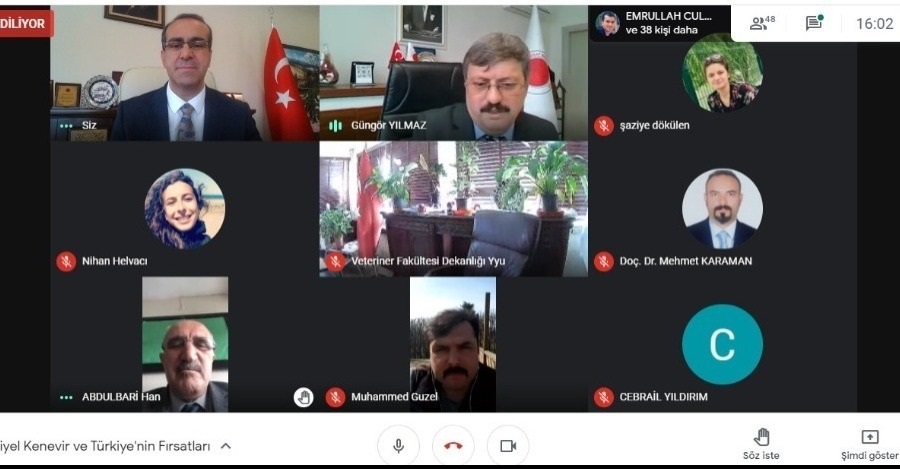 Our Vice Rector and Hemp Research Coordinator Prof. Dr. Güngör Yılmaz made a presentation titled "Industrial Hemp and Opportunities of Turkey " at the seminar organized online by Muş Alparslan University.

In the seminar moderated by Muş Alparslan University Vice Rector Prof. Dr. Yaşar Karadağ, Prof. Dr. Güngör Yılmaz, focused on Turkey's opportunities after demonstrating all aspects of industrial hemp.

At the seminar, which attracted great interest from domestic and foreign participants, Vice Rector Prof. Dr. Yılmaz made important remarks on the current situation of hemp in the world and in Turkey, developments in the world and developments in Turkey, what should happen, solution approaches and opportunities regarding Turkey's hemp sector. Yılmaz said: "In order for Turkey to get a share from the hemp markets, the industrial sector needs to be established and developed. In this context, it is important that hemp agriculture and industry grow together. If the necessary legal regulations are made, there are important opportunities for our country."

28.4.2021 13:21 || 86 once read.
---