MARCH 14 NATIONAL DOCTORS' DAY EVENT ORGANIZED AT OUR UNIVERSITY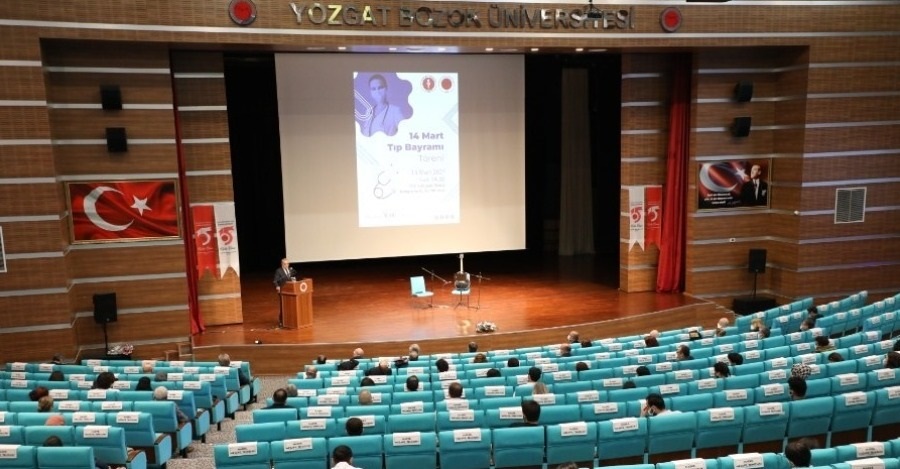 Also known as the beginning of modern medical education in Turkey, March 14 Doctors' Day was celebrated with our University School of Medicine students and events organized by the instructors.

Our Rector Prof. Dr. Ahmet Karadağ, Vice Rectors, Prof. Dr. Şenol Akın and Prof. Dr. Güngör Yılmaz, Dean of the Faculty of Medicine Prof. Dr. Ferit Çiçekçioğlu, Chief Physician of our University Faculty of Medicine Research and Application Hospital Prof. Dr. Arif Osman Tokat, faculty deans, academic members, healthcare professionals and students participated in the event organized at Erdoğan Akdağ Congress and Culture Center.

The opening speech of the program was made by Elif Demiraslan, a 4th year student at our University Faculty of Medicine. In her speech, Demiraslan pointed out that March 14 Doctors' Day is a day of unity as well as a celebration day, and emphasized that doctors should support other doctors against violence, mobbing and the problems in the profession.

Dean of the Faculty of Medicine Prof. Dr. Ferit Çiçekçioğlu stated that March 14  Doctors' Day is important in terms of enabling the health community to make their voices heard by stating their problems and demands. Prof. Dr. Çiçekçioğlu continued his speech: "I would like to thank you for your outstanding efforts in both educational activities and patient follow-up during the difficult Covid-19 pandemic period. During the pandemic, we witnessed how doctors and all healthcare professionals struggled at the forefront of this struggle at the cost of their lives. However, even during this period, we witnessed that there were attempts of violence against our healthcare professionals. Being unable to prevent these problems is a pity."

Addressing the students and drawing attention to the fact that medical education is a very difficult process, Prof. Dr. Çiçekçioğlu said: "Medicine is compassion, good morality, conscience and empathy itself. Medicine is wisdom, patience and experience with endless knowledge. In this process, we will support you in fulfilling the sacred profession with great devotion by preparing you in a qualified and equipped manner. On this occasion, I congratulate all my colleagues and healthcare professionals who fulfill a sacred duty with self-sacrifice and devotion."

Our Rector Prof. Dr. Ahmet Karadağ said, "Our doctors are the most distinguished and well-equipped people of the society. They perform an honorable duty by sacrificing themselves and their family when necessary, making great sacrifices in keeping people alive. I believe that the medical profession will continue with this ethics and motto. While our healthcare professionals try to fulfill their duties by showing sacrifice at all times and under all circumstances, unfortunately, they encounter situations that they do not deserve. Here, I would like to celebrate this day with my most heartfelt feelings."

The program continued with the presentation of plaques to Prof. Dr. Hasan Ali Bayhan, Prof. Dr. Murat Korkmaz, Prof. Dr. Engin Tutkun, Prof. Dr. Hacı Alper Uzun, Prof. Dr. Barış Doğu Yıldız, Assoc. Prof. Dr. Zeynep Tuğba Ozan and Elif Turan. The program concluded with a music concert and presentation of flowers.

23.3.2021 09:56 || 75 once read.
---