CONFERENCE ORGANIZED AT OUR UNIVERSITY ON NOVEMBER 10 ATATÜRK REMEMBRANCE DAY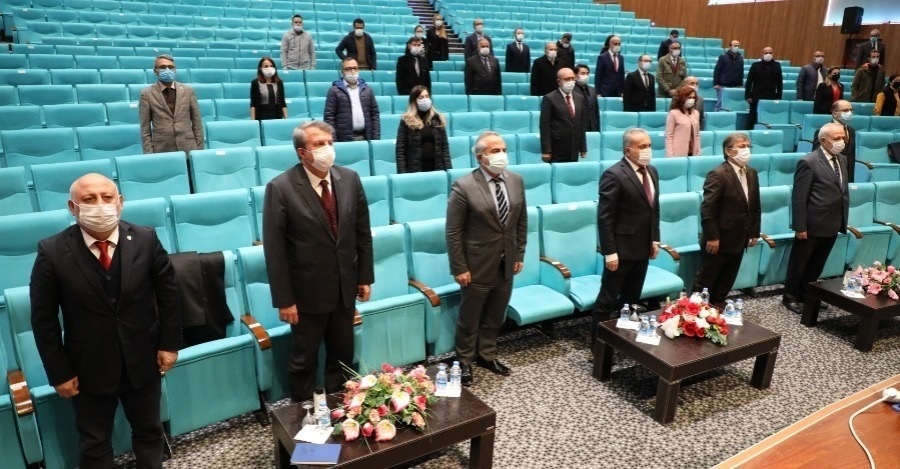 Founder of the Republic of Turkey Mustafa Kemal Atatürk was commemorated in the 82nd year of his death in the conference organized by Our University.

Our Rector Prof. Dr. Ahmet Karadağ, Vice Rectors Prof. Dr. Şenol Akın, Prof. Dr. Güngör Yılmaz, Prof. Dr. Yücel Güney, Secretary General Prof. Dr. Uğur Kölemen, faculty deans, department heads and academic staff of our university attended to the November 10 Atatürk Remembrance program organized at our University Erdoğan Akdağ Congress and Culture Center and broadcast live on YouTube and Bozok Radio.

In his speech our University Rector Prof. Dr. Ahmet Karadağ pointed out that what makes a nation is its leaders and pioneers and he said:

"While these lands became Anatolian lands from Manzikert to Çanakkale, a huge sacrifice had to be made. Of course, the leaders were very important in winning this fight. Starting from Alparslan to Mustafa Kemal Atatürk, the character of the nation, the spirit of leadership, the sanctity of the homeland had shown the whole world how to bring both justice and law to these lands and are still doing so. Therefore, there is morality, decency, and life in the character and culture of this nation. Therefore, there is love and respect for human beings."

"Veteran Mustafa Kemal Atatürk crowned his fight that started in Anatolia with his friends with determination and belief in the days when Anatolia was almost brought to pieces and saved the Turkish nation from captivity by saving Çanakkale. We know very well that the character of our nation is still the same today and will be the same tomorrow. What makes a nation strong is through its strong leaders. Mustafa Kemal Atatürk is one of our rare personalities and leaders who saved this nation from the enemies with determination. In this context, we would like to repeat that as Yozgat Bozok University, the cradle of science, we will uphold our nation's values. "

After the opening speeches, our University Faculty of Science and Literature member Asst. Prof. Dr. Onur Çelebi gave a conference titled "The Story of Rebirth Full of Victory and Peace".

In his conference, Asst. Prof. Dr. Onur Çelebi drew attention to the importance of Atatürk's mentality and philosophy in the story of rebirth, full of victories and successes, while evaluating the last periods of the Ottoman Empire on land, economy and capitulations. Commenting on Atatürk's interpretation of the issues as a leader and his correct analysis of the east and the west, Asst. Prof. Dr. Çelebi said: "We have to read and understand this great legacy and thoughts left by Atatürk today."

At the end of the program, , Asst. Prof. Dr. Onur Çelebi was presented a plaque by our Vice Rector Prof. Dr. Yücel Güney.

13.11.2020 10:31 || 202 once read.
---