PROJECT "CINEMA FOR ALL"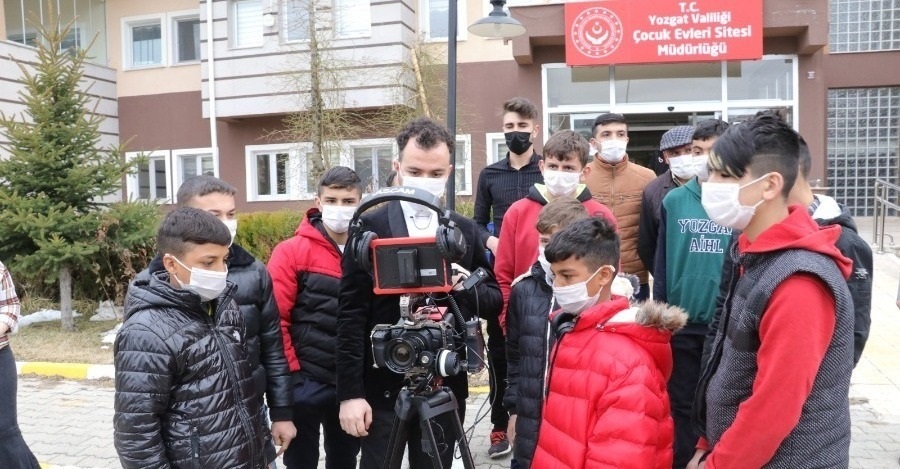 Children staying in Yozgat Sevgi Evleri will write their own scripts and shoot their own movies with the "Cinema for All" project. Completed films will be presented to cinema lovers.

25 students who completed their theoretical education in the "Cinema for All " prepared by the Yozgat Association of Cinema Literacy and managed by the Yozgat Governorship, Yozgat Bozok University and the Provincial Directorate of Family, Labor and Social Services and supported by the Ministry of Interior and the General Directorate of Civil Society Relations, and started hands-on training.

In the project, which will last for 5 months, students staying in Sevgi Evleri in Yozgat were given training on the harmful effects of media, Islamophobia in the digital world, and short films and documentaries.

Yozgat Governor Ziya Polat, who participated in the practical training held in Yozgat Sevgi Evleri, also took photos using a drone. Polat stated that they want every high school graduate to have "at least" a license in one sport and "at least" to play one musical instrument. "This project, presented to us by the Association of Cinema Literacy, was supported by the Ministry of Interior. It is in an effort to introduce the beauty of Yozgat to all people. Now we will be able to make these films with our association, our academics and our children. We will shoot the promotional films we want with our own brothers and sisters here."

President of Association of Cinema Literacy and Vocational School of our University Radio-TV Programming Lect. Batuhan Kalaycı stated that the work continues within the scope of the project and the theoretical training has been completed.

Our Rector Prof. Dr. Ahmet Karadağ said: "The 'Cinema for All" Project undertaken by our University Vocational School Radio-TV Programming Lecturer Batuhan Kalaycı is a very important step for our young people staying at Sevgi Evleri to be raised in this field. I would like to express my gratitude to the Ministry of the Interior, Yozgat Governorship, Association of Cinema Literacy and Lecturer Batuhan Kalaycı, who made great contributions to our university's achievements in the field of Radio TV."

23.3.2021 09:51 || 36 once read.
---