OUR UNIVERSITY QUALIFIES TO RECEIVE "ZERO WASTE CERTIFICATE"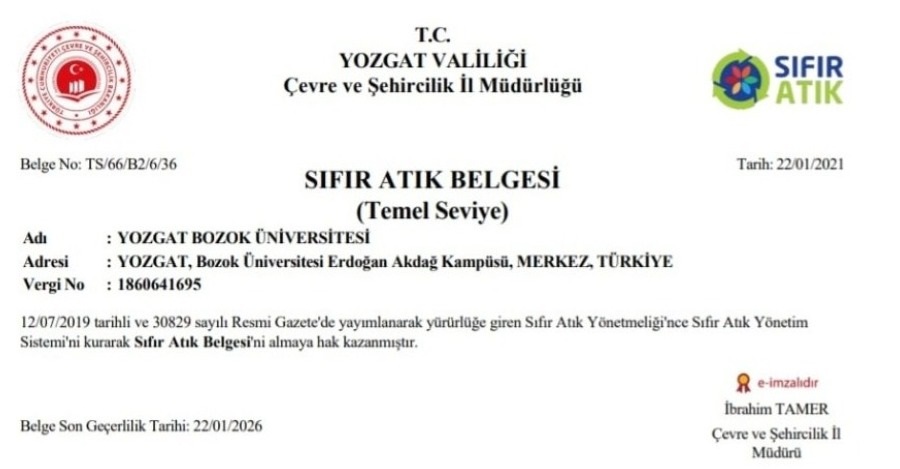 Within the scope of the studies carried out with the "Zero Waste Regulation", which entered into force after being published in the Official Gazette dated 12.07.2019 and numbered 30829 by the Ministry of Environment and Urbanization, the criteria of the Ministry were fulfilled and a "Zero Waste Certificate" was given to our University by the Provincial Directorate of Environment and Urbanization.

The work carried out at our University for a while to fulfill the responsibilities with environmental awareness within the scope of the Zero Waste Project has started to bring results. In the works initiated to create awareness on this issue, first of all, a zero waste coordinatorship was established, and the waste types were determined by conducting a situation analysis for the wastes in our university. In this context, a six-way separation method was established, training of administrative and academic staff was carried out, and temporary storage areas were created for the separate collection of waste on the campus site. In addition, separate colored garbage bags were purchased for each waste allocated to show the differences of the waste. In order to determine the amount of waste allocated at the source, a software has been developed for data entry of the amount of waste types disposed by the Directorate of Information Technologies. Thus, the types and amounts of waste generated in each unit were also determined and recorded.

 

The Zero Waste Project continues to be effectively implemented in all units of our University, which aims to raise awareness about fighting against climate change, energy recovery, contribution to the economy and sustainability.

Our Rector Prof. Dr. Ahmet Karadağ stated that the "Zero Waste Certificate" will constitute an important step and motivation for our university's work to create a livable environment today and from now on, and said: "Our university is to fulfill an exemplary responsibility project on Zero Waste as in every subject. Since the day we took office, we have approached this issue with great sensitivity and recently accelerated the work on the zero waste project. For this, bins for all waste have been placed in our schools and administrative buildings. All stages were meticulously followed at the point of classifying and recycling each waste. We have made great progress in a short time and we put great effort to become an exemplary university in this regard. Obtaining the Zero Waste Certificate is a very important and pleasing stage for us. I would like to thank all the people in the Zero Waste Commission especially Our Vice Rector Prof. Dr. Şenol Akın and our Secretary General Prof. Dr.Uğur Kölemen."

4.2.2021 11:22 || 48 once read.
---