OUR UNIVERSITY HAS BEEN SELECTED AS THE UNIVERSITY THAT SPECIALIZES IN "INDUSTRIAL HEMP"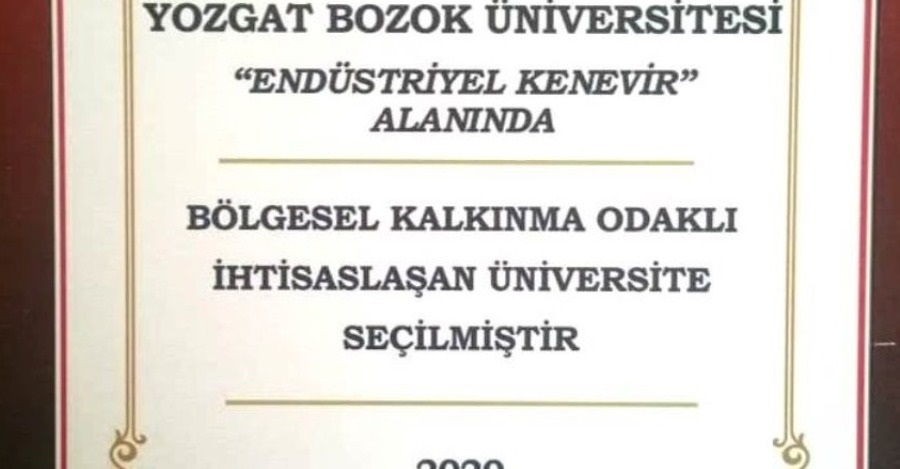 OUR UNIVERSITY HAS BEEN SELECTED AS THE UNIVERSITY THAT SPECIALIZES IN "INDUSTRIAL HEMP"  WITHIN THE SCOPE OF UNIVERSITIES AIMED AT REGIONAL DEVELOPMENT

Our university has been selected among "Specializing Universities" with its project "Industrial Hemp for Sustainable Biomaterial and Bioenergy", under the scope of "Mission Differentiation and Specialization Aimed at Regional Development Project" conducted by CoHE (YÖK).

As is known, Bingöl University in the field of Agriculture and Basin Based Development, Burdur Mehmet Akif Ersoy University; Husbandry, Düzce University;  Health and Environment, Kırşehir Ahi Evran University; Agriculture and Geothermic, Uşak University; Textile, Leathermaking and Ceramics, Aksaray University; Sports and Health, Kastamonu University; Nature Tourism and Forestry, Siirt University; Agriculture and Husbandry, Muş Alpaslan University; Husbandry and Recep Tayyip Erdoğan University; Tea Production were included in this scope before. After the decision declared at 11.00 today, by CoHE President Prof. Dr. Yekta Saraç, our university has become one of 5 universities included in this scope with the field specialization of "Industrial Hemp for Sustainable Biomaterial and Bioenergy" together with Bartın University; Smart Logistics and Integrated Regional Practices, Kırklareli University; Food, Artvin Çoruh University; Medical and Aromatic Plants, and Hitit University; Machine and Manufacturing Technologies.

Hereby;

We would like to express our gratitude to our President Mr. Recep Tayyip Erdoğan who possesses the perception of mission differentiation and contributes to the regional development of our universities, CoHE President Prof. Dr. Yekta Saraç who is a pursuer of this theme, our Vice-President Mr. Fuat Oktay who has always supported and stayed by us during our Regional Development moves, our former Turkish Parliamentary Speaker Mr. Cemil Çiçek, our Governor, our Deputies and our Mayor.

We would also like to thank our University Senate Members that did not hesitate to support us during this process, our Academics who contributed to the figuration of the project, our city's Industrialists whom we would like to work with in the future as well, related Non-governmental Organizations, Development Agencies and Local and National Press that conveyed our messages to large masses.

Some of the potential gains from this project;

According to the hemp regulations, one of 19 cities allowed to produce hemp is Yozgat. Hemp is one of the oldest cultural plants of Yozgat and its importance and use in industry and technology have increased in recent years. With this specialization project, the studies carried out in the RD center that will be built in our university, in the fields of electronic technology, cellulose, textile, food, medicine, construction, composite materials, biomaterials, bioenergy and agriculture will bring Yozgat to the center of industry based on hemp.

With this project, current human resources, technical and physical substructure of our university will be used more efficiently, and the opportunity to make up for shortcomings will be provided, as well. Besides, the increase of hemp production in our country will contribute to the breeding of new hemp diversities, and the development of several materials obtained by hemp.

This project -based on the transfer of RD results to the field- will bring important contributions to the conversion of these results to economic value, social benefit, and the increase of individual income, and therefore, the decrease of migration.

28.3.2020 13:05 || 828 once read.
---