OUR RECTOR PARTICIPATES IN THE FIRST WATER COUNCIL LAUNCH AND OPENING CEREMONY OF 363 FACILITIES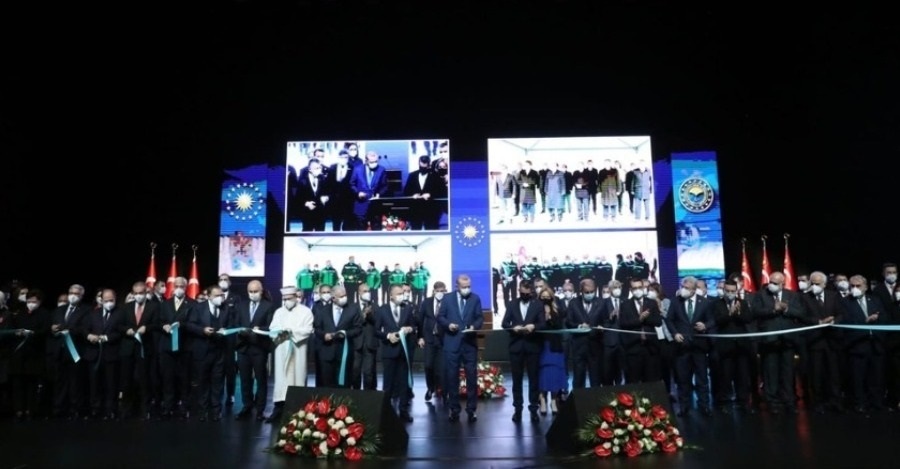 Our Rector Prof. Dr. Ahmet Karadağ has participated in the "1st Water Council Launch and the Opening Ceremony of 363 Facilities" held at Beştepe National Congress and Culture Center under the chairmanship of President Recep Tayyip Erdoğan.

Speaking at the ceremony, President Erdoğan thanked all experts, sector representatives, stakeholders and citizens who will enrich the Council with their ideas, suggestions, opinions, hard work and criticism.

Stating that "Water is an indispensable blessing for humanity as well as all living things," President Erdoğan continued his words as follows: "Water is an indispensable element not only for our lives but also for economic development and growth. In order to meet this need in a sustainable way, it is important to use available resources in the most efficient way and to prevent waste. We see that the need for water is gradually increasing due to the rapid increase of the population, climate change and drought. While the need for water increases, the water resources available to humanity are decreasing day by day. This shrinkage brings drought, poverty and hunger. Again, due to water scarcity, ecological balance is deteriorating, biological diversity is lost, and humanity's food security is endangered. This dire picture causes many problems, from social turmoil to irregular migration, famine to international tensions. "

Our President Erdoğan said: "There is no difference in nature between protecting our water and protecting our homeland. There are duties on our part for this. We need to renew and develop agricultural irrigation systems.''

After his speech, President Erdoğan opened Bartın Ulus Çayı Çerçi Deresi Flood Protection Facility, Kütahya Karacakaş Pond and Van Erciş Drinking Water Treatment Plants with a live connection. Later, President Erdoğan and his company cut the ribbon and opened 363 facilities.

Participating in the launch and opening ceremony, Our Rector Prof. Dr. Ahmet Karadağ said: "I was honored and proud to participate in the introductory meeting of the 1st Water Council held by our Ministry of Agriculture and Forestry under the chairmanship of our President Recep Tayyip Erdoğan and the opening ceremony of 363 facilities, which will be a big step in the development of our country. The water issue has a great vitality for the century we live in, as in every period of history. In this sense, the 1st Water Council will lead the way in making important decisions on behalf of our future, based on the principle of "Water is the Homeland". On the occasion of the council, new strategies will be determined for our country and our future in the medium and long term, and issues will be discussed by experts on the subject. As Yozgat Bozok University, we will do our best in line with the development initiative and future vision determined by our state.''

31.3.2021 14:17 || 24 once read.
---