OUR RECTOR ATTENDS THE "2021-2022 ACADEMIC YEAR OPENING CEREMONY"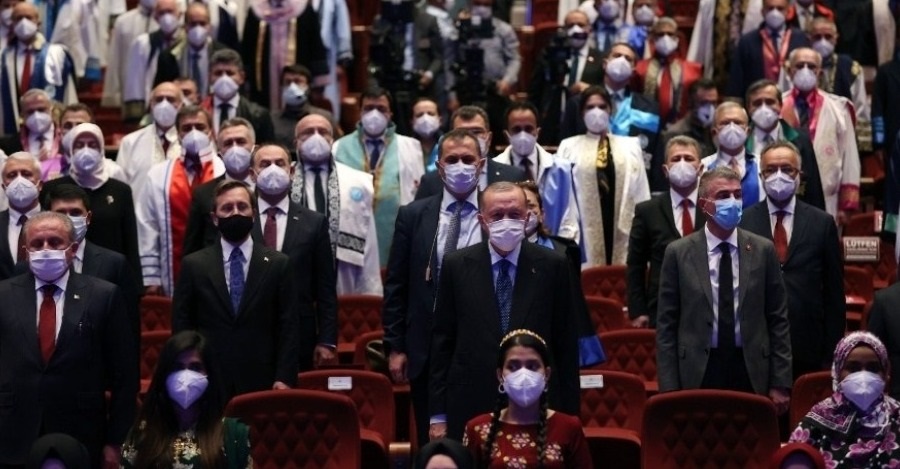 Our Rector Prof. Dr. Ahmet Karadağ attended the "2021-2022 Academic Year Opening Ceremony" with Vice Rectors Prof. Dr. Gungor Yilmaz and Prof. Dr. Yücel Güney with the presence of our President Mr. Recep Tayyip Erdoğan.

The ceremony was held at the Presidential Complex Beştepe National Congress and Culture Center with the presence of our President, Mr. Recep Tayyip Erdoğan.

Stating that serious and long-lasting difficulties, changes, and new education models have emerged in higher education, as in many other fields, due to the new lifestyle brought by the pandemic worldwide for nearly two years, YÖK President Özvar stated that over 1 billion 725 million students were affected by the pandemic process.

Underlining that the physical infrastructure problems in our universities have been perfectly resolved in the last two decades with the support of President Erdoğan, Özvar said, "The number of our students in 2010 reached 8 million 241 thousand in 2021. Half of our university students are female students. In our higher education institutions, not only Turkish students but also international students, whose number is about 250 thousand, benefit from education and training opportunities. Parallel to these developments, the total number of the teaching staff at our universities has increased by 80 percent in the last 10 years, from 102,682 to 181,272."

President Recep Tayyip Erdoğan, who made a speech after the YÖK President, Erol Özvar, reminded that there have been great difficulties in education services since March 2020, as in many areas, due to the coronavirus pandemic, and stated that it is important to continue education, even if it is from a distance. Expressing that it is clear that distance education will not replace the experience of face-to-face education, however, Erdoğan stated that as the government, they have taken every precaution to activate educational institutions at all levels at the designated time.

 

President Erdoğan said: "We believe that with the support we will provide as the government and the resources that our universities will develop themselves, we can realize such a vision. During the pandemic, we have seen together that we have the necessary infrastructure and horizon in many fields from health to industry. We have now entered a period when we have to stop being an imitator and follower and become a determining and guiding position."

President Recep Tayyip Erdoğan continued his words as follows: "One of these steps is the 'Global Visions Support Program in Turkish Higher Education Towards 2030', which is the largest financial support organization ever made to universities in the history of the Republic. With this program, which will be implemented under the leadership of the Council of Higher Education, our universities will hopefully serve to make our country one of the leading centers of innovative studies in the world. We will support this program and make every contribution for our universities to achieve global success."

Reminding that they believe in a strong relationship between education and development and that they have established this relationship, Erdoğan said, "As the education level of our people increases, their knowledge and skills increase, the political and social-economic development of our country accelerates at the same rate. Prosperity is also increasing in countries with non-formal and strong educational institutions. The spread of higher education institutions throughout the country means the fair and balanced distribution of the welfare that will emerge in this way."

After the opening speeches, the "YÖK 2021 Outstanding Achievement Awards", which was first given by YÖK in the 2017-2018 academic year in order to encourage scientific research and studies, projects, theses and community service activities in universities, were presented to the award winners by our President, Mr. Recep Tayyip Erdoğan.

11.10.2021 13:18 || 35 once read.
---