MARCH 18 ÇANAKKALE VICTORY AND MARTYRS' DAY PROGRAM ORGANIZED AT OUR UNIVERSITY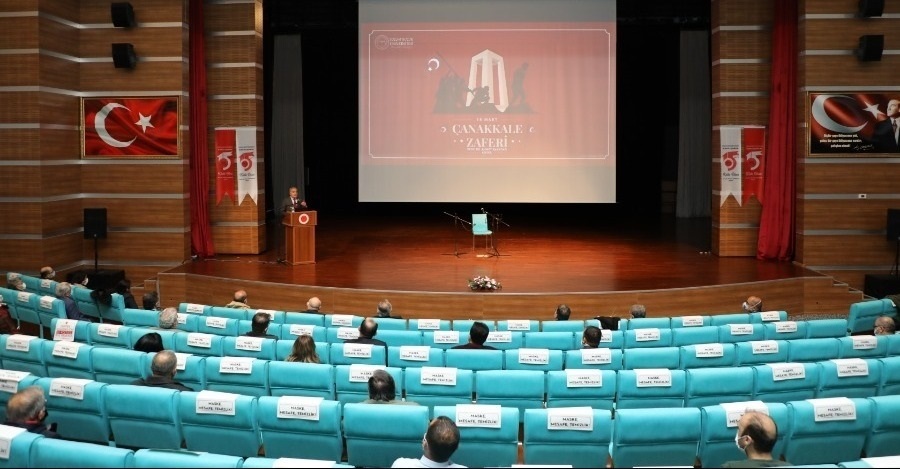 A memorial program was held at our university for the 106th anniversary of the March 18 Çanakkale Victory. In Çanakkale, despite all the impossibilities, the heroes who wrote a great epic coming from all corners of the country and putting forward their lives for their national and spiritual values, were commemorated once again.

Our Rector Prof. Dr. Ahmet Karadağ, Vice Rectors Prof. Dr. Şenol Akın, Prof. Dr. Güngör Yılmaz, Prof. Dr. Yücel Güney, Secretary General Prof. Dr. Uğur Kölemen, faculty deans, department directors and academic members participated in the program held at Erdoğan Akdağ Congress and Culture Center.

Head of Ataturk's Principles and Revolution History Department, Assoc. Prof. Dr. Hatice Güzel Mumyakmaz informed the participants about the purpose and historical background of the Çanakkale Wars commemoration activities.

Our Rector Prof. Dr. Ahmet Karadağ pointed out that every moment of the epic victory is filled with such heroic stories by presenting short sections of the heroic stories that are memorized in the Çanakkale War, where the Turkish nation achieved an epic victory.

In the continuation of his speech, our Rector said: "This victory a nation has fought to survive in the face of global attacks and despite being under very difficult conditions has become the assurance that the Turkish Nation cannot be erased from the stage of history. This victory has also been engraved in memories as a clear indication that our nation can overcome all the difficulties and win against its enemies when acting in unity and solidarity."

At the end of his speech, our Rector said: "I celebrate the 106th anniversary of our Çanakkale Victory with sincere feelings and commemorate all our martyrs and veterans with mercy. I would like to commemorate Gazi Mustafa Kemal Atatürk and all his comrades with gratitude."

106th Anniversary of March 18 Çanakkale Victory and Martyrs' Day Program concluded after the screening of the short film "Kınalı Hasan" by Lect. Batuhan Kalaycı and our students, and a concert of "Çanakkale Folk Songs" sung by Çağrı Çınarer.

23.3.2021 10:01 || 37 once read.
---