GRADUATION JOY AT OUR UNIVERSITY FACULTY OF AGRICULTURE AND COMMUNICATION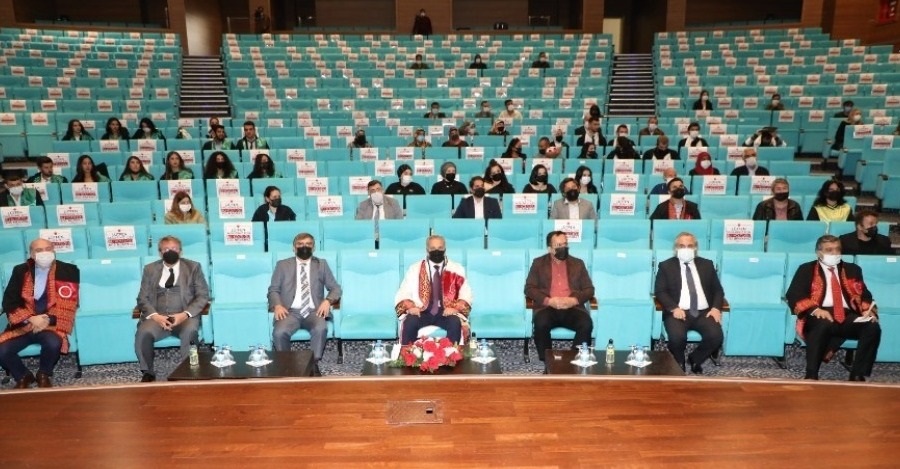 Students who successfully completed their 2020-2021 academic year undergraduate education at the Faculty of Agriculture and Communication of our university received their diplomas at the graduation ceremonies.

Our Rector Prof. Dr. Ahmet Karadağ, Vice Rectors Prof. Dr. Şenol Akın, Prof. Dr. Güngör Yılmaz, Prof. Dr. Yücel Güney, faculty deans, instructors, students and their families attended the graduation ceremony held at Erdoğan Akdağ Congress and Culture.

The graduation ceremony, which started with a moment of silence and the National Anthem, continued with the speeches of the valedictorians.

Speaking on behalf of the Faculty of Agriculture of our university, Furkan Yılmaz, Esra Arı and İbrahim Kaya, said in their speeches: "The qualified education provided by Yozgat Bozok University and all the professional involvement it has given us to look to the future with confidence will enable us to do our job properly as graduates of our faculties."

In his speech the Dean of the Faculty of Agriculture of our university Prof. Dr. Yavuz Gürbüz said: "The profession of Agricultural Engineering has never lost its value. Its value is increasing day by day. As Yozgat Bozok University Faculty of Agriculture, we care about agricultural education and we are doing our part by educating our students on this subject, and we will continue to do so."

Dean of the Faculty of Communication Prof. Dr. Mustafa Akdağ said: Our Faculty of Communication always works hard to provide the best service to its students in order to develop their skills and provide them professional equipment. When we meet our graduates who have left us in the following years, it is enough for us to be proud of seeing them as successful experts in the field, as individuals who have accomplished good works and lead a happy and peaceful life. May your path, good luck and success be forever."

Our Rector Prof. Dr. Ahmet Karadağ stated that today, they are proud and excited to graduate the Communicators and Agricultural Engineers of the future from Bozok University in a well-equipped manner. "When our students started the Faculty of Agriculture four years ago, they had dreams and expectations. Now they are justifiably proud of making those dreams and expectations come true. In our faculty, we have made an effort to train our students in the best way possible. I believe that our students who graduated from our Yozgat Bozok University Faculty of Agriculture today will undertake very important works in their fields and in their professional lives as Agricultural Engineers. I wish our graduates success in their future career and life."

Our Rector Prof. Dr. Ahmet Karadağ said, "Our students who graduated from the Department of Radio, Television and Cinema of the Faculty of Communication of our university will start their careers as the communicators of the future. Communication plays a very important role in human relations. If you aim to be a very good professional, first of all have confidence in yourself. Follow your dreams but never be a dreamer. I would like to thank the academic staff of our university, and your families, who have made great efforts to bring you to where you are today."

At the end of his speech, our Rector thanked Bilal Şahin for his important contributions to our university and presented a plaque to Businessperson Osman Nuri Şahin, the son of Businessperson Bilal Şahin, in memory of the day.

28.9.2021 22:34 || 54 once read.
---