FEAS 2020-2021 ACADEMIC YEAR GRADUATES RECEIVE THEIR DIPLOMA WITH A CEREMONY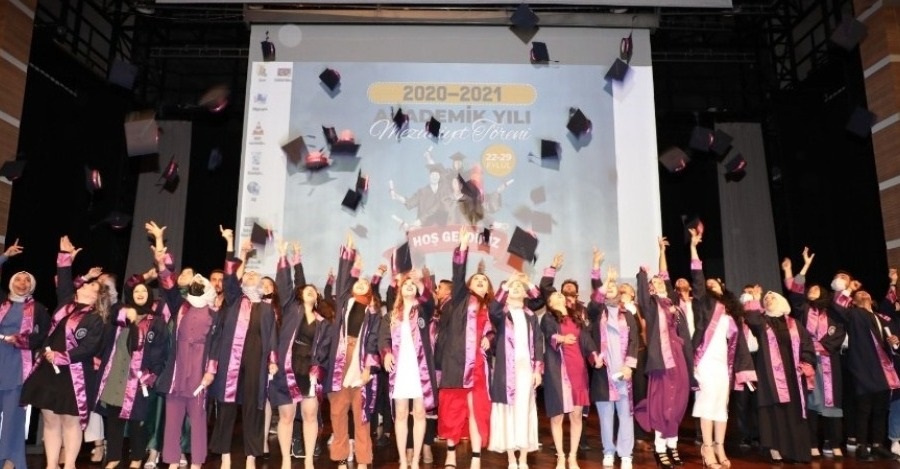 The graduation joy of our students who have successfully completed their undergraduate education at the end of the 2020-2021 academic year continues. Our University's Faculty of Economics and Administrative Sciences students experienced the justified pride of graduating with a graduation ceremony.

Yozgat Governor Ziya Polat, our Rector Prof. Dr. Ahmet Karadağ, Vice Rector Prof. Dr. Güngör Yılmaz, FEAS Faculty Dean Prof. Dr. Kürşad Zorlu, Secretary General Prof. Dr. Uğur Kölemen, lecturers, students and their families attended the graduation ceremont held at Erdoğan Akdağ Congress and Culture Center.

The graduation ceremony, which started with a moment of silence and the National Anthem, continued with the presentation of our University's introductory video.

Emine Şahan, the valedictorian of the Faculty of Economics and Administrative Sciences of the 2020-2021 academic year, made a speech on behalf of the graduates. In his speech, Şahan said, "With the experiences we have gained as FEAS graduates, we are responsible for taking a role in the future of our beautiful country and transferring these experiences to future generations."

In his speech Prof. Dr. Zorlu said: "Being here on this important day when you graduated from Yozgat Bozok University and stepped into our state, your families, your own life and career path has a very different meaning for me. Never keep your goals small. Always aim ahead by being aware of your own self and abilities. Congratulations on your graduation."

Our Rector Prof. Dr. Ahmet Karadağ stated that Yozgat Bozok University has provided very important services to the academy, scientific community and humanity since the year it was founded, and he said: "Yozgat Bozok University is constantly growing and developing with scientific studies both in education and academia. We believed in something, what we believed in was achieving. Believing is half the success. When you focus on this, success is inevitable. Our expectation from you is to turn your dreams and goals, which will add meaning and value to your life, into a success story by realizing them with effort and hardwork. I would like to wish you good luck in your future."

In his speech, the Governor of Yozgat Ziya Polat thanked the parents who brought these graduates who will serve as the Governor of Yozgat in the future to this day, and the faculty members who were always with them in their education. Governor Polat addressed the graduate students and said: "My request from you, our graduates, is this. Our state has given you these opportunities. I want you not to leave the order of our state and the service of our nation, and to pay these rights. Everything is hidden in you. You have to reveal this potential by working hard. Choose professions that you will be happy with, do not lose contact with your professors. You will represent us as cultural ambassadors of Yozgat. Our door is always open to you. Congratulations on your graduation."

The graduation program came to an end with the caps thrown by the graduate students.

28.9.2021 22:22 || 48 once read.
---