ENERGY SEMINAR ORGANIZED WITHIN THE SCOPE OF ENERGY SAVING WEEK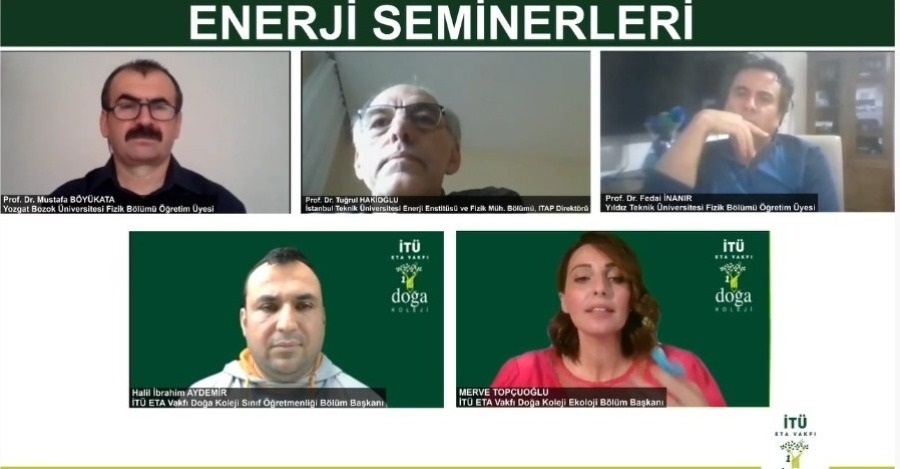 "Energy Seminars" event was organized by ITU ETA Foundation Doğa College.

Our University Faculty of Science and Literature, Physics Department academic member Prof. Dr. Mustafa Böyükata, who participated in the seminar broadcast live on YouTube channel online gave information about the extent and place of use of renewable energy in Turkey and the world.

"Energy Efficiency and Environment" and "Energy of the Future: Renewable Energy" sessions were held within the scope of the seminar program, which was considered to be beneficial in terms of raising awareness of responsibility in students and parents today when alternatives to clean and sustainable energy systems are tried to be found.

In the online seminar watched by 103 primary school students studying in 103 campuses and their parents, Yozgat Bozok University Department of Physics member Prof. Dr. Mustafa Böyükata,  Istanbul Technical University Energy Institute and Physics Engineering Department Faculty Member, ITAP Director Prof. Dr. Tuğrul Hakioğlu and Yıldız Technical University Physics Department faculty member Prof. Dr. Fedai İnanır gave information on the subject in the online seminar "Energy for the Future: Renewable Energy ".

In the seminar that questions of the moderator Head of the Ecology Department of İTÜ ETA Foundation Doğa College Merve Topçuoğlu,  and Head of Primary School Education Department Halil İbrahim Aydemir were answered,  Prof. Dr. Mustafa Böyükata answered the questions about the use of renewable energy which can be obtained from sustainable sources in nature and is flanked by nature directly, the importance of geographical locations in the use of renewable energy and of the climate movement. In his speech, he drew attention to the increase in both production and consumption dimensions of the emerging alternative energy resources in the world, referring to the issues of eliminating the negativities that occur with the use of primary energy resources and the depletion of them.

The seminar organized within the scope of "Energy Efficiency Week" ended with the presentation of other speakers.

18.1.2021 14:06 || 65 once read.
---