BİLAL ŞAHİN FACULTY OF THEOLOGY LIBRARY IS AT SERVICE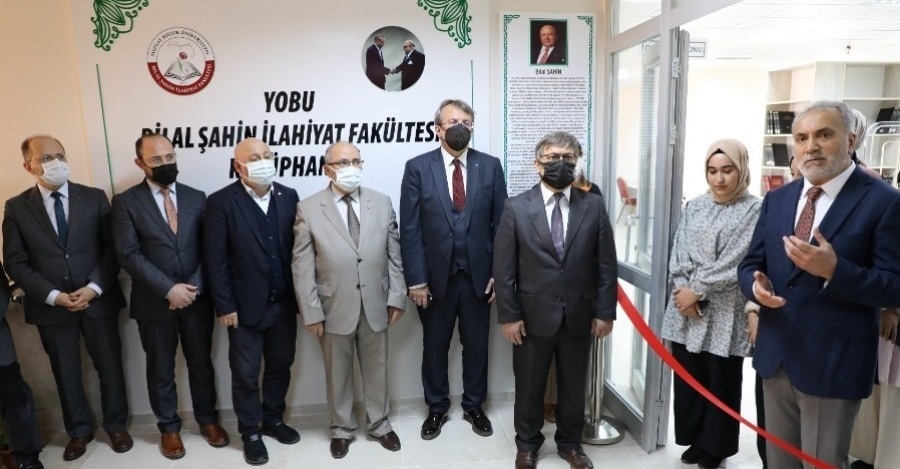 Bilal Şahin library, which was built by the businessman Bilal Şahin and will serve on the 3rd floor of the new building of Bilal Şahin Faculty of Theology, was put into service with a ceremony.

Speaking at the library opening ceremony, our Rector Prof. Dr. Ahmet Karadağ said "Libraries contribute to the creation of an information society. A society that thinks, discusses, and produces can only be achieved with libraries and the correct use of information resources. In this sense, businessman Bilal Şahin, who contributes to our university in every sense completed the technical and physical infrastructure and equipment of the new library, which will serve on the 3rd  floor of the Faculty of Theology. After the computer laboratory that Bilal Şahin brought to our Faculty of Theology, I am happy that the new library, which has many rich resources, will be used by both our academicians and students. I want our young people, who are the guarantee of our future, to make maximum use of the library and not to leave these precious spaces empty.

After Our Rector Prof. Dr. After Ahmet Karadağ's speech, the library was put into service with the ribbon-cutting ceremony by our students.

The library, which has a capacity of 15 thousand books, opened after the completion of the settlement, classification and registration work, and 140 people will be able to receive service at the same time. Bilal Şahin Faculty of Theology library has 8,100 registered books and 2 thousand donated books so far.

11.11.2021 14:58 || 40 once read.
---