"AZERBAIJAN VICTORY DAY" PROGRAM ORGANIZED AT OUR UNIVERSITY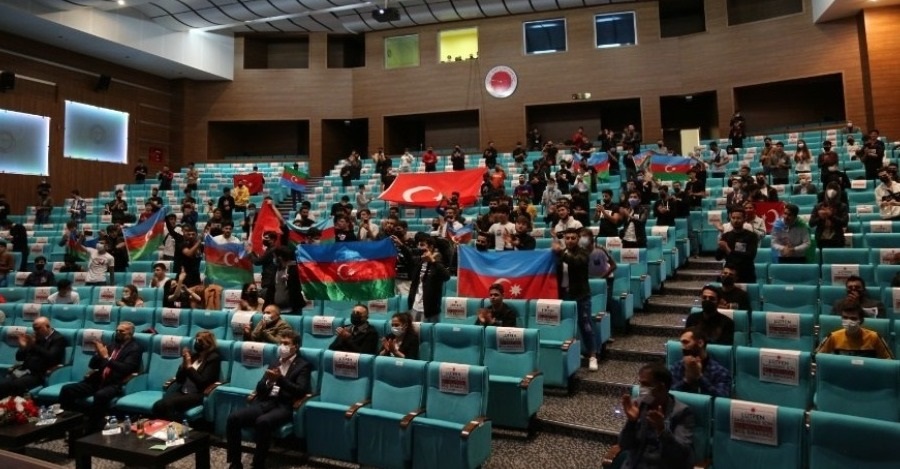 "Azerbaijan Victory Day" Celebration Program was organized by the Faculty of Economics and Administrative Sciences and Young Ideas and Leaders Club in our university in the first year of the declaration of the liberation of Karabakh by Azerbaijan, where the 30-year occupation of Armenia ended.

The program started with the speech of our Azerbaijani student Elvin Rasulov. In his speech, Rasulov stated that the liberation of Karabakh is an important step for Azerbaijan and the entire Turkish world, and stated that today is very meaningful for them and expressed his satisfaction that this program has been carried out by Yozgat Bozok University.

Our Rector Prof. Dr. Ahmet Karadağ said: "Our valuable students of Azerbaijan, on the other hand, precious children of our country, who are here to study from various provinces of Turkey, welcome to our program. It is very pleasing that as of this year, nearly 300 students from Azerbaijan have started their education here. If there was a Nagorno-Karabakh Victory, as the late Heydar Aliyev said, it was when two nations wiped that insidious nation from the lands as one heart and one state. If you are not a powerful state, a powerful country, and your technology is not strong, success may not be in question. For him, valuable young people, as a student, as a citizen, as an individual, doing what it takes to be a strong state and a powerful state is one of the greatest values ​​of the individual. My dear students from Azerbaijan, if you want to do great things when you go to Azerbaijan, you have to get a very good education from here. I want you to know that we will work our best to train you in the best way in the education and training processes. Dear Young, I ask you to be very, very loyal to the values ​​of your nation and homeland. On this occasion, I wish the first year of the liberation of Nagorno-Karabakh to be prosperous, and I pray to God that those lands will remain as Turkish lands forever. I warmly embrace and greet you all."

Afterwards, our University's FEAS Deputy Dean Assoc. Dr. Hülya Toker stated that on these dates last year, friendly and brotherly Azerbaijan declared the day when Karabakh's 30-year occupation of Armenia ended as the "Azerbaijan Victory Day". Noting that today is a very meaningful day for us, Toker thanked all the participants.

The program ended with a slide show and a dance show.

11.11.2021 15:03 || 27 once read.
---