A CONFERENCE ORGANIZED AT OUR UNIVERSITY ON 10 NOVEMBER ATATÜRK'S COMMEMORATION DAY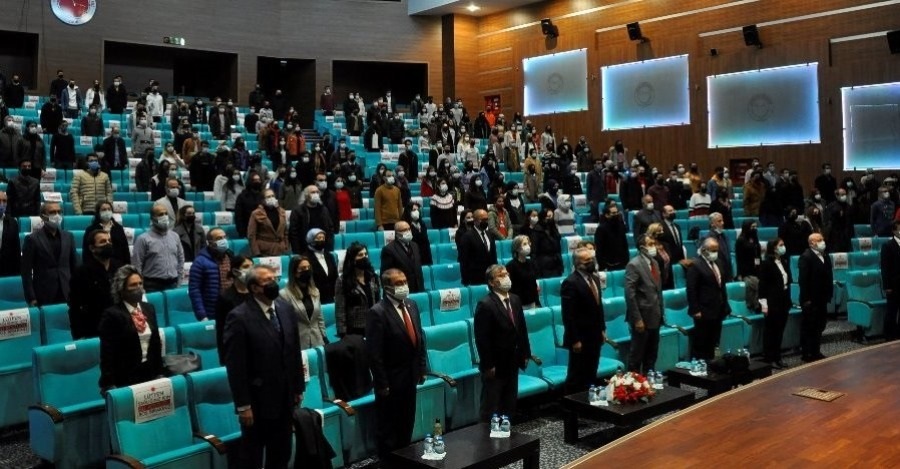 Gazi Mustafa Kemal Atatürk, the founder of the Republic of Turkey, was commemorated in the 83rd year of his death with a conference organized by our University.

Our Rector Prof. Dr. Ahmet Karadağ, Vice Rectors Prof. Dr. Şenol Akın, Prof. Dr. Güngör Yılmaz, Prof. Dr. Yücel Güney, Secretary General Prof. Dr. Uğur Kölemen, administrative and academic staff of our university and students attended the ceremony.

The opening speech of the program, which started with a moment of silence and the National Anthem, was delivered by the Head of Atatürk's Principles and Revolution History Department Assoc. Dr. Hatice Güzel Mumyakmaz. Stating that the successes of Gazi Mustafa Kemal Atatürk, the founder of the Turkish Republic, in the military and political fields, changed the course of history with the construction of a new society and a new state, Assoc. Dr. Mumyakmaz continued her words as follows: "Atatürk has been a source of inspiration to oppressed nations with his struggle against imperialism and has been seen as the hero of the East. The state he founded is a modern, centralized, national unitary state in every respect. His greatest work and legacy is the Republic. We should not forget that the Republic, whose 98th anniversary we celebrated on October 29, was entrusted by Atatürk to free generations with ideas, wisdom, and conscience. We should work as a nation to take our country further than it is in science, technology, and every field.

Speaking at the program, our Rector Prof. Dr. Ahmet Karadağ said:

"My valuable students, colleagues, our very esteemed guest teacher, on the occasion of the 83rd anniversary of his death, I commemorate Veteran Mustafa Kemal Atatürk and his comrades in arms with mercy and gratitude.

My dear students, we need to protect the legacy of Atatürk and our Turkish elders by never forgetting our perseverance and determination, our will, and our responsibility in every field. If we are going to commemorate Atatürk and our Turkish elders with goodness, we must always prioritize the love of the homeland, the flag, and the love of the nation.

In the commemoration program, Hacettepe University Atatürk Principles and Revolution History Institute faculty member Prof. Dr. Seyfi Yıldırım gave a conference on "Rethinking November 10".

In his conference, Prof. Dr. Seyfi Yıldırım noted that the Republic was a continuation of the Ottoman State and stated that there was no break in the Turkish state, only a regime change. Stating that Gazi Mustafa Kemal Atatürk made reforms to build the new republic in addition to the victories he won on the battlefields, Prof. Dr. Yıldırım; "Atatürk is a man of ideas as well as a statesman. He provided the development of a nation in poverty and impossibility in the fields of education, economy, science, technique, history, and culture. The most important legacy Atatürk left us is the national and independent state. On this occasion, November 10 reminds us of this legacy, showing that we need to protect it strongly and work hard to move our country forward."

After the conference, "Atatürk's Favorite Songs" concert was given by the music teacher Çağrı Çınarer.

At the end of the program, Our Rector Prof. Dr. Ahmet Karadağ presented a plaque of appreciation to Prof. Dr. Seyfi Yıldırım and Çağrı Çınarer.

11.11.2021 15:06 || 28 once read.
---